Free Tariq Ramadan from Detention: An Open Letter from a Muslim Academic Community in Thailand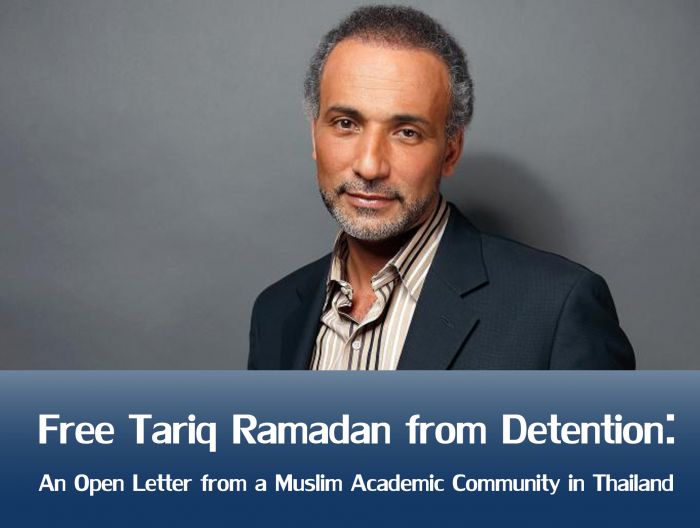 Tariq Ramadan's allegations of rape and sexual assault have been on a worldwide attention of many academic communities including in Thailand. We are writing this not to presume that he is guilty or innocent, "nor are we to defend him and condemn his complainants". We expect that justice system will bring it bright in the near future. But we as global citizens are deeply concerned with the way in which French justice has been undertaking this case with a double standard of treatment and without a guarantee of fundamental human rights. Ramadan, a Professor of Contemporary Islamic Studies at the University of Oxford, has been detained for more than a month without reasonable justifications and a due process. We, therefore, call for relevant French authorities to reconsider the non-professional and unethical treatments to Tariq Ramadan, to uphold universal principles of human rights, dignity, and equality, and to permit him those rights he is entitled to.
Ramadan is not a man without weaknesses, but his intellectual influence and projects have critically shaken a center of gravity of traditional Islam and shaped a new landscape of thought in the Muslim world. His works are almost all centered on the central messages of mutual respect, women's empowerment, freedom, and justice. He is an important asset of reformist Islam in the modern time. Although we have not heard of his academic visit to Thailand yet, his thought and inspiration have been well welcome in the Thai society. In 2012, there was a presentation about his thought in a seminar on tolerance organized by Young Muslim Association of Thailand in Walailak University. In 2015, Thai students in Turkey translated his keynote speech on "critical thinking" and it was widely read and discussed in Thailand. In the same year, Professor Kasian Tejapira, a renowned Thai scholar of Political Science, translated Ramadan and his colleagues' global call for Muslim democrats to commit to democratic principles. Among Muslim intellectuals in Thailand, Ramadan is recognized as a significant thinker for Islamic Revivalism and Modern Islam.
If this affair is like a football match, we expect to see a "fair play" game under the rules of law in which both parties are protected by rights to defense and universal principles of human rights. If he is guilty, prove it without a double standard of treatment and an abuse. We believe that Women's rights should be respected in any time and place, but we do not endorse an abuse of it in the name of human rights, dignity, and equality. Nor do we believe that fundamental human rights should be sacrificed for any politically motivated investigation. We, hence, join solidarity with all scholars, human right groups, Muslim feminist movements, and non-governmental organizations in calling for French authorities to release Tariq Ramadan immediately and treat him with a due process and equal justice in a civilized manner.
We hope that French will not allow this event to be a sign of the country's decline in both ethical and political terms. We will closely observe and witness this event together until the light is shined at the end of the tunnel. And we will always stand with a victim.
Signatories:
Assist. Prof. Dr. Muhammad Ilyas Yahprung, Ramkhamhaeng University

Assist. Prof. Dr. Sukree Langputeh, Fatoni University

Ekkarin Tuansiri, Prince of Songkhla University, Pattani Campus

Zakee Phithakkumpol, Institute for Peace Studies, Prince of Songkla University

Anwar Koma, Dokuz Eylul University

Muhammadfahmee Talek M.D., Ph.D. Prince of Songkhla University, Pattani Campus

Assist.Prof.Dr. Bukhoree Yeema, Songkhla Rajabhat University.

Imron Sohsan, Khon Kaen University

Sanman Madman, Ibn Haldun University

Romadon Panjor, Deep South Watch

Zakariya Amataya, SEA Write Poet and Editor of The Melayu Review

Assist. Prof. Dr. Samart Thongfhua, Faculty of Political Science, Prince of Songkla University, Pattani Campus

Rosenun Chesof, University of Malaya

Imron Sahoh, Center for Conflict Studies and Cultural Diversity [CSCD], Prince of Songkla University, Pattani Campus

Assist. Prof. Jehabdulloh Jehsorhoh, Faculty of Fine and Applied Art, Prince of Songkla University, Pattani Campus

Yasmin Sattar, Istanbul University

Young Muslim Association of Thailand – YMAT

Amporn Marddent, Ph.D., Walailak University

Abdulloh Mad-adam, Patani Forum

Haneef U-seng, Erpsysware Limitted Partnership